Ivory Coast Travel Vaccines and Advice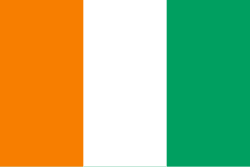 Whilst previously considered as a business district, the Ivory Coast has recently received a better reception as a tourist destination.  As one of the wealthiest countries in Africa, you won't regret your decision. You'll be quite mesmerized by all its natural beauty. With the National parks carpeted with pristine forests and wildlife, charming fishing villages, palm tree lined beaches and mountainous landscapes, there's nothing that won't satisfy any nature lover out there. There is a multitude of activities available; tourists can choose from hiking, surfing, water skiing, scuba diving or climbing. The charm of this country, however, is not limited to its natural assets. You will be surrounded by plenty of cultures and a lifestyle punctuated by music. Immerse yourself in a vivacious culture by paying a visit to Ivory Coast.
Recommended travel vaccinations for Ivory Coast
Recommended Medication for Travelling to Ivory Coast
| Medication | Additional Information |
| --- | --- |
| Azithromycin or Suprax | Antibiotic in case of traveler's diarrhea |
| Malarone, Doxycycline or Mefloquine | Recommended anti-malaria medication |
Current Weather in Ivory Coast
Medical Care in Ivory Coast
If possible, it is advisable to opt for a private establishment in the event of illness or accident during your trip to Ivory Coast. Hospitals are limited to Abidjan, including the Polyclinique Internationale Ste Anne-Marie or the International Polyclinic of Indenie which are the main health facilities used by expatriates. In addition, the Bleuets Clinique offers specialized services in pediatrics and obstetrics. It is worth noting that the majority of doctors do not speak English.  Also make sure you have cash on you to pay for consultations, regardless of any insurance you may have purchased. Facilities outside of the city offer an average quality of medical care. For each doctor operating in the Ivory Coast, there are 9908 inhabitants, for each nurse, there are 2416 inhabitations, and for each midwife, there are 2118 women.
It is advisable to bring your pharmacy kit as lots of medicines prove challenging to find in the country.
To call an ambulance, dial 185.
Is Ivory Coast Safe for Travel?
| Safety and Security | Descriptive |
| --- | --- |
| Crime | High risk |
| Terrorism | Risk present |
| Demonstrations | Risk of violence |
| Road safety | Secondary roads are not paved |
| Public transportation | Inadequate; Not recommended |
| Border with Liberia | Avoid non-essential travel |
| Protest actions | Avoid large gatherings and demonstrations |
| Highway robbers | Risk present |
| Swimming | Dangerous; Not advised |
| Fraud | Risk present |
| Health | Zika virus warning |
| Risk level | High degree of caution |
Please click 
here
 for more information.
Do I Need a Visa to Visit Ivory Coast?
Prior to travel, make sure you check with your transportation company about any passport requirements. This is important as in some cases their regulations on passport validity may be more strict than those of the destination country.
Both, a visa and a passport are required to enter Ivory Coast. Your passport must be valid for at least six months beyond the date of departure.
Please click here for more information.
Embassy of Canada to Ivory Coast information
When travelling to another country, it is important to know where the Canadian embassy is located in the event of:
A legal problem
A lost passport
The need to report a crime
It is advisable to make a copy of your original passport in case you lose it.
Canadian Embassy to Ivory Coast
Street Address:
Immeuble Trade Centre, 23 avenue Noguès,
Le Plateau, Abidjan, Côte d'Ivoire
Tel.: 225 20 30 07 00
Fax: 225 20 30 07 20
Email: [email protected]