Nigeria Vaccinations and Travel Advice

Considered a multiethnic West African country, Nigeria attracts tourists all year round with its breathtaking landscape. Yankari National Park will satisfy nature lovers and adventurers with its elephants, buffaloes, hippopotami, crocodiles, lions and gazelles. Famous for its variety of butterflies, the Cross River National Park is home to many other species. Whilst the country is known for its natural sights, you should not miss a tour of its cultural and historical sites. History buffs will be amazed at its huge sculptures, and Yoruba God shrines in Nigeria's sacred forests.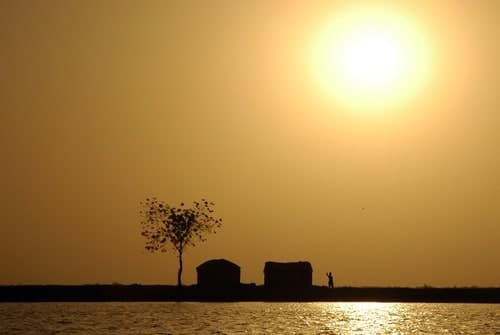 Recommended travel vaccinations for Nigeria
Recommended Medication for Travelling to Nigeria
| Medication | Additional Information |
| --- | --- |
| Azithromycin or Suprax | Antibiotic in case of traveler's diarrhea |
| Malarone, Doxycycline or Mefloquine | Recommended anti-malaria medication |
Medical Care in Nigeria
Healthcare in Nigerian public hospitals is inadequate, and it is advisable to use private institutions. The Saint-Nicolas Hospital – open 24/7 – is a reliable facility for medical treatment including general surgery, general medicine, orthopedics, gynecology and a dialysis unit. The Critical Rescue International (CRI) provides medical emergency services with quality equipment and competent paramedics.
Pharmaceuticals from Europe are easily available from Nigerian pharmacies, but it is still advisable to bring an emergency medical kit with you.
There are no centralized emergency numbers, make sure to research contact information on nearby facilities.
Is Nigeria Safe for Travel?
| Safety and Security | Descriptive |
| --- | --- |
| Crime | High risk; Beware of carjacking |
| Terrorism | Risk present |
| Demonstrations | Risk of violence |
| Curfew | Present in many cities |
| Road safety | Poor road conditions; Caution required when travelling from or to the airport |
| Public transportation | Avoid public transportation |
| Remote areas | Monitor reports carefully before entering such areas |
| Hotel selection | Stay in high security hotels |
| Kidnapping | Risk present |
| Fraud | Common; Caution required |
| Northern and Middle Belt states of Adamawa/ Bauchi/ Borno/ Gombe/ Kaduna/ Kano/ Plateau/ Yobe | AVOID ALL TRAVEL |
| Niger Delta states of Abia/ Akwa Ibom/ Anambra/ Bayelsa/ Delta/ Imo/ Rivers | AVOID ALL TRAVEL |
| Abuja/ Calabar/ Lagos | High degree of caution required |
| Demonstrations | Risk of violence |
| Swimming | Coastal waters are dangerous; Presence of reptides is common |
| Health | Zika virus, Polio, Cholera and Lassa fever warning |
| Risk level | AVOID NON-ESSENTIAL TRAVEL |
Please click 
here
 for more information.
Do I Need a Visa to Visit Nigeria?
Prior to travel, make sure you check with your transportation company about any passport requirements. This is important as in some cases their regulations on passport validity may be more strict than those of the destination country.
Both, a visa and a passport are required to enter Nigeria. Your passport must be valid for at least six months beyond the date of departure.
Please click here for more information.
Embassy of Canada to Nigeria information
When travelling to another country, it is important to know where the Canadian embassy is located in the event of:
A legal problem
A lost passport
The need to report a crime
It is advisable to make a copy of your original passport in case you lose it.
Canadian High Commission to Nigeria (ABUJA)
Street Address:
13010G, Palm close, Diplomatic drive,
Central Business District, Abuja, Nigeria
Tel.: +234 (09) 461 2900
Fax: +234 (09) 461 2902
Email: [email protected]
Canadian Deputy High Commission to Nigeria (LAGOS)
Street Address:
4 Anifowoshe Street,
Victoria Island, Lagos, Nigeria
Tel.: +234 (1) 271 5650
Fax: +234 (1) 271 5651
Email: [email protected]