Indonesia Vaccinations and Travel Advice

Bordering Malaysia, Indonesia is a cultural melting pot with a fascinating identity. Consisting of approximately 17,000 islands nestled between Asia and the Pacific Ocean, you will be greeted by a wide range of activities. With so many attractions on offer, it is difficult to know where to start. Whether you're here to see coral reefs, Java's volcanic landscapes, Sumatra's jungles, the Komodo Dragon or Nusa Tenggara and Sulawesi, you will not regret visiting this wonderful country. Do not forget to explore Indonesian architectural treasures and its culture shaped by Buddhist and Hindu traditions.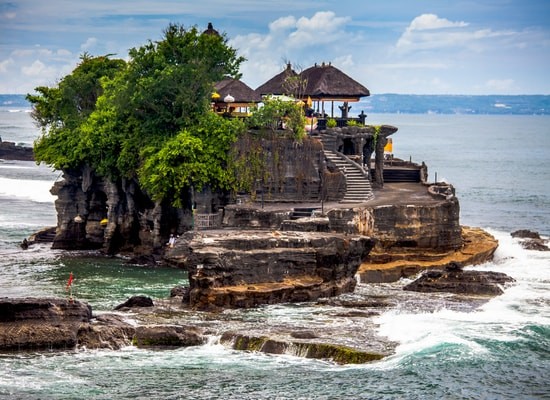 Recommended travel vaccinations for Indonesia
Recommended Medication for Travelling to Indonesia
| Medication | Additional Information |
| --- | --- |
| Acetazolamide or Dexamethasone | Recommended for prevention of acute mountain sickness |
| Azithromycin or Suprax | Antibiotic in case of traveler's diarrhea |
| Malarone, Doxycycline or Mefloquine | Recommended anti-malaria medication |
Medical Care in Indonesia
Access to medical care, particularly in public facilities, proves limited in Indonesia. International clinics such as International SOS are available in Jakarta, Balikpapan and Bali. Global Doctor can be located South of the capital, and Pusat Jantung National offers emergency cardiac services. However, the prices of these services are extortionate. Note that public hospitals in Indonesia are only allowed to be operated by Indonesian doctors. In the event of a serious complication, you should be transferred to Australia or Singapore for higher quality treatment.
Well-stocked pharmacies are easily accessed in Indonesia.
Most private hospitals have their own ambulance, but dial 110 for police in case of emergency.
Is Indonesia Safe for Travel?
| Safety and Security | Descriptive |
| --- | --- |
| Terrorism | Risk present |
| Crime | Risk present |
| Demonstrations and civil unrest | Risk of violence |
| Political and social tension | Risk of violence |
| Kidnapping | Avoid travelling alone and at night |
| Spiked food and drinks | Never leave food or drinks unattended; Be wary of accepting items from strangers |
| Fraud | Very high rate of credit/debit card fraud |
| Road safety | Risk present |
| Idul Fitri (celebrations marking the end of Ramadan) | Increase in traffic and traffic accidents |
| Public transportation | Crowded and unsafe |
| Maritime transportation | Avoid traveling by ferry; Unsafe; Extreme weather conditions |
| Swimming | Respect local warnings and consult hotel management about potential water hazards |
| Piracy | Pirate attack occur in coastal waters; Mariners should take appropriate precautions |
| Health | Zika virus and Diphtheria |
| Risk level | High degree of cautionPAPUA – AVOID NON-ESSENTIAL TRAVEL |
Please click 
here
 for more information.
Do I Need a Visa to Visit Indonesia?
Prior to travel, make sure you check with your transportation company about any passport requirements. This is important as in some cases their regulations on passport validity may be more strict than those of the destination country.
Your passport must be valid at least 6 months beyond the date you expect to leave from Indonesia. You will not require a tourist visa if staying for under 30 days. A visa will be required for business purposes.
Please click here for more information.
Embassy of Canada to Indonesia information
When travelling to another country, it is important to know where the Canadian embassy is located in the event of:
A legal problem
A lost passport
The need to report a crime
It is advisable to make a copy of your original passport in case you lose it.
Canadian Embassy to Indonesia (JAKARTA)
Street Address:
World Trade Centre I, 6th Floor, Jl. Jend Sudirman, Kav. 29, Jakarta 12920, Indonesia
Tel.: 62 21 2550 7800
Fax: 62 21 2550 7811
Email: [email protected]
Australian Consulate to Indonesia (BALI)
Street Address:
Jalan Tantular No. 32,
Renon, Denpasar, Bali, Indonesia
Tel.: 62 361 241 118
Fax: 62 361 221 195
Email: [email protected]
Click here to access the consulate's website
Please note that this is Australian Consulate in Indonesia. The Australian Consulate can assist Canadians in case of an emergency.