Timor-Leste (East Timor) Travel Vaccines and Advice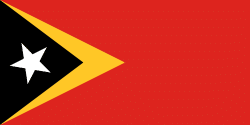 Southeast Asia is home to attractive countries such as Timor-Leste. A destination of incredible wealth, East Timor grants you the chance to relax in peaceful surroundings. The pristine beaches of Jaco with their crystal clear waters and white sands are ideal for doing so. If you enjoy scuba diving, East Timor proves a good location. Among other wonders, it is also recommended to visit the accessible Mount Tata Mai, known for its stunning hiking routes. Ensure that you do not miss the capital Dili – a historic center offering exceptional heritage inherited from the Portuguese passages.
Recommended travel vaccinations for Timor-Leste (East Timor)
Recommended Medication for Travelling to Timor-Leste (East Timor)
| Medication | Additional Information |
| --- | --- |
| Acetazolamide or Dexamethasone | Recommended for prevention of acute mountain sickness |
| Azithromycin or Suprax | Antibiotic in case of traveler's diarrhea |
| Malarone, Doxycycline or Mefloquine | Recommended anti-malaria medication |
Current Weather in Timor-Leste (East Timor)
Medical Care in Timor-Leste (East Timor)
Medical centers are scare in East Timor, particularly in areas outside of the capital, Dili.  If you need to be hospitalized, go to Guido Valdares National Hospital.
Although both pharmacies and hospitals offer good medicines, it is always important to plan ahead before visiting a foreign country. Therefore, bringing a first aid kit containing your usual medications is essential.
In the event of a medical emergency, dial 115 for assistance. Emergency facilities provide adequate care in Timor-Leste, yet more serious diseases or accidents will require medical evacuation to another country.
Is Timor-Leste (East Timor) Safe for Travel?
| Safety and Security | Descriptive |
| --- | --- |
| Crime | Risk present |
| Demonstrations and civil unrest | Risk of violence; Avoid large gatherings |
| Road safety | Poor road conditions; Hazardous driving during the rain season |
| Women's safety | Risk present |
| Risk level | High degree of caution |
Please click 
here
 for more information.
Do I Need a Visa to Visit Timor-Leste (East Timor)?
Prior to travel, make sure you check with your transportation company about any passport requirements. This is important as in some cases their regulations on passport validity may be more strict than those of the destination country.
Both, a visa and a passport are required to enter Timor-Leste (East Timor). Your passport must be valid for at least six months beyond the date of departure.
Once arrived at the capital, Dili, the fee required for your visa will depend on the length of your stay.
Please click here for more information.
Embassy of Canada to Timor-Leste (East Timor) information
When travelling to another country, it is important to know where the Canadian embassy is located in the event of:
A legal problem
A lost passport
The need to report a crime
It is advisable to make a copy of your original passport in case you lose it.
Australian Embassy to Timor-Leste (East Timor) (DILI)
Street Address:
Rua Mártires da Pátria,
Dili, Timor-Leste
Tel.: 670 332 2111
Fax: 670 332 2247
Email: [email protected]
Please note that this is the Australian Embassy located in Timor-Leste (East Timor). Support can be provided to Canadians from this Embassy.
Canadian Embassy to Indonesia (JAKARTA)
Street Address:
World Trade Centre I, 6th Floor, Jl. Jend Sudirman,
Kav. 29, Jakarta 12920, Indonesia
Tel.: 62 21 2550 7800
Fax: 62 21 2550 7811
Email: [email protected]
Please note that this is the website for the Canadian Embassy in Indonesia.