Hungary Travel Vaccines and Advice

With its baroque cities, rural villages and water towns, Hungary managed to establish harmony between nature, tradition, culture and history. Start your visit to Budapest, the vibrant city of colours. Make a stop at one of the local bars or restaurants to enjoy a unique atmosphere and sip on strong local wine. As you move away from the capital, you will have the choice between resorts on lakes or hiking trails in the heart of the magnificent landscape of the Mátra and Zemplén mountains. Birdwatchers will be delighted when practicing their hobby, while horseback enthusiasts will slowly enjoy the Hortobágy area. On the Tisza river, the canoe is commonly practiced. After a busy day, take some time and relax in one of the country's spas.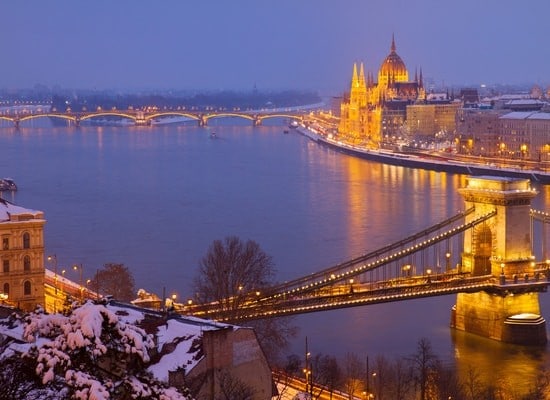 Recommended travel vaccinations for Hungary
Recommended Medication for Travelling to Hungary
| Medication | Additional Information |
| --- | --- |
| Ciprofloxacin, Azithromycin or Suprax | Antibiotic in case of traveler's diarrhea |
Current Weather in Hungary
Medical Care in Hungary
Despite rudimentary equipment in some public hospitals, the general level of healthcare in Hungary is of a high quality. Reliable services can be found at  FirstMed Centers or R-Clinic. Each medical consultation costs 300 forints, which is the equivalent to one euro. In the event of complications, it is sometimes necessary to be evacuated to a foreign country.
Regarding pharmaceutical services, the majority comply with European standards. They are generally well supplied. Here is a useful link to find pharmacies in Hungary.
An ambulance can be summoned by dialling 112.
Is Hungary Safe for Travel?
| Safety and Security | Descriptive |
| --- | --- |
| Crime | Risk present |
| Terrorism | Risk present |
| Demonstrations | Risk of violence |
| Road safety | Caution required in rural areas |
| Public transportation | Bus, tram and metro are realiable; Use offical taxis |
| Spiked food and drinks | Always keep an eye on your food |
| Fraud | Always check prices; Do not ask recommendation to taxis |
| Health | Measles warning |
| Risk level | Normal security precautions |
Please click 
here
 for more information.
Do I Need a Visa to Visit Hungary?
Prior to travel, make sure you check with your transportation company about any passport requirements. This is important as in some cases their regulations on passport validity may be more strict than those of the destination country.
Only a passport is required to enter Hungary for trips under 90 days. Your passport must be valid for at least three months beyond the date of departure.
Please note that Hungary is a part of the Schengen area, which allows crossing its countries borders' freely. However, all the countries within the Schengen Area are restrained to a cumulative stay of a maximum of 90 days per period of 180 days. Longer trips will require a visa.
Please click here for more information.
Embassy of Canada to Hungary information
When travelling to another country, it is important to know where the Canadian embassy is located in the event of:
A legal problem
A lost passport
The need to report a crime
It is advisable to make a copy of your original passport in case you lose it.
Canadian Embassy to Hungary
Street Address:
Ganz utca 12-14,
1027 Budapest, Hungary
Tel.: 36 (1) 392-3360
Fax: 36 (1) 392-3390
Email: [email protected]