Thailand is one of the world most popular travel destinations. We've asked some of travel professionals for some tips beyond the vaccinations required for travelling to Thailand to help keep you safe.
The Kingdom of Thailand is a centrally located country in the Southern Asian peninsula, which is made up of 76 provinces. With a population of over 68 million people, encountering a lot of traffic, people, and unique places is inevitable. From Railay Beach in Krabi and the exhilarating island of Koh Phi Phi to Khao Yai National Park of Chiang Mai and the Grand Palace in Bangkok, there is no doubt about the beauty of beaches, culture, natural landscapes, and wildlife of Thailand.
There is a lot to do in Thailand and many ways to stay protected and stay safe while travelling. We have outlined a few tips below.

Stay informed out about the weather
Thailand is a tropical paradise in many people's minds, but this may come with some drawbacks depending on the season. The warmth of the climate is steady, but your plans may be influenced by the rainy season from July to October. Sometimes it even extends into November. The showers may seem refreshing, but don't forget your favorite umbrella—the rain can get vicious sometimes!
The rest of the year has the sun shining and the heat rising. There are numerous beaches to cool off at when it gets a bit too hot, but don't forget to drink bottled or purified water to stay hydrated. Avoid drinking the tap water since it could make you sick with typhoid or even cholera in some regions.
It is advisable to be mindful of weather updates as you carry about your day-to-day activities. There are many easy ways to have access to the updates. e.g Google, weather apps, or local TV channels.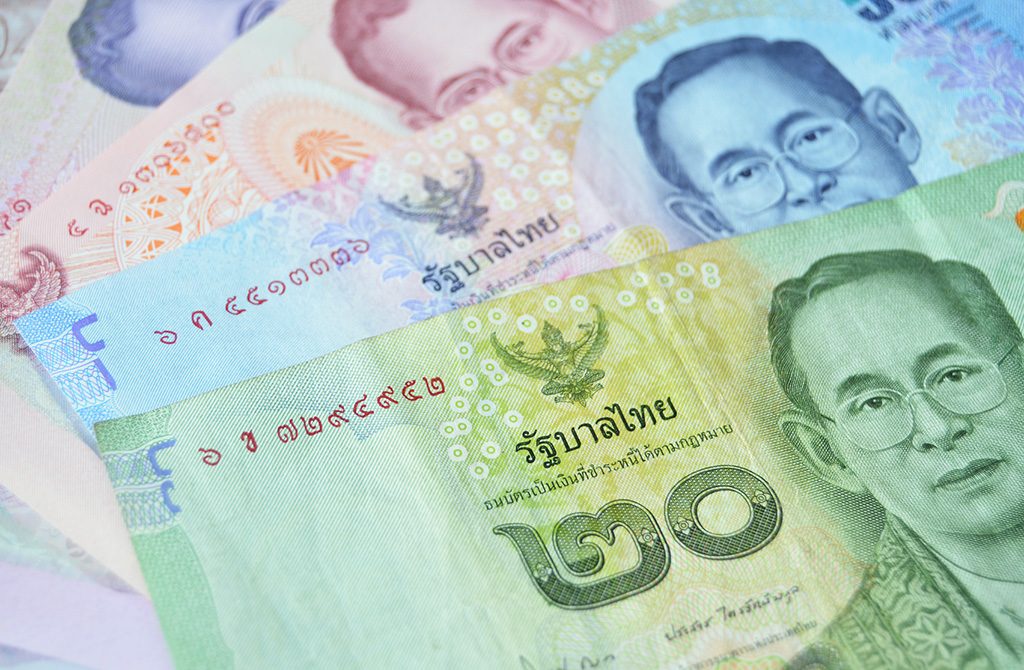 2. Take some local currency with you
1 dollar equals about 30 Thai Baht which is the Thailand currency. It is pretty strong and it is advisable to always have some local currency on you, anywhere, anytime. There are many places to change your dollars to Baht and numerous Automated Teller Machines (ATMs) to access your cash.
Remember to regularly wash your hands with disinfectants after handling currency, especially before eating.
3. Healthy eating while travelling to Thailand
Staying healthy while indulging in local delicacies can be a challenge wherever you travel, and Thailand is no exception. Indeed, the cuisine is one of the things travellers love most about Thailand. If you're dreaming about Pad Thai, Tom Yum or Khao Saoi, do not fear. With the proper precautions—and a good backup plan–you can enjoy all the flavours Thailand has to offer!
Street vendors and corner restaurants can be found in any location in the country to offer you one of your best meal experiences. It's may look cheap and tasty, but be careful when selecting where you eat. You don't want to be sidelined with travellers' diarrhea.
Here are tips to reduce your risk of getting sick:
Wash your hand on frequent basis. Especially before food and after.
Do not forget to wash fruits or vegetables purchased from the local markets with clean water.
Avoid drinking any water or ice from an unconfirmed source.
Take quick baths regularly, and keep your mouth closed in the shower.
4. Get vaccinated at a travel clinic
Many travellers underestimate the importance of simple vaccinations when planning travel to another country. Summit Travel Health carries all the travel vaccines necessary to safeguard your health and well-being on your trip to Thailand, such as Hepatitis A, Rabies and Measles. Prescriptions for anti-malarial and anti-diarrheal medications are available for our clients as well.
5. Be knowledgeable of the medical institutions nearest to your destination
The quality of medical care in Thailand is generally very good. Most doctors possess the training and skill set required to properly address medical concerns. Typhoid and malaria treatments, and any other emergency services are usually accessible in both large and smaller cities. Be mindful of the medication you buy at the pharmacy, as it is unlikely to be exactly the same as you would get from your home pharmacy—and the pharmacist won't have your medical record to confirm there are no contraindications or allergies. With that, make sure to bring any prescription medication you would need on your trip with you.

If you are in Bangkok, you will find the BNH hospital or Mahidol University Teaching Hospital to offer quality pharmaceuticals and medical services.
We recommend always knowing where to go if you need help ahead of time. Should you even be in need of a blood transfusion, be sure your Hepatitis B vaccine is also up to date!
6. Take caution in crowded places
One of the most captivating activities for any traveller in Thailand is a visit to the local markets. The shopkeepers will wave you in and welcome you to explore the goods they have to offer, from sandals to scorpions! For many, this is a wonderful avenue to meet people and create some lasting memories. Unfortunately, it can be compromised if the market is also a hotbed for certain contaminable ailments found in not only what you eat and drink, but also what you touch.
Beyond the risk of travellers diarrhea or typhoid, it's also important to be mindful of pickpockets at markets or any crowded public places.
7. Avoid Mosquitoes
Malaria is one of the most dangerous diseases in the world and it has proven to be the number one killer of man. While not a risk in all parts of the country, it is important to practice mosquito bite prevention. Whether you book a suite in one of the luxurious hotels, or a remote cabin, be sure to check the screens on your windows and regularly use treated mosquito nets. Many accommodations will provide mosquito nets, and you can purchase a treated mosquito net at home or once in Thailand. Take extra caution when staying in mosquito-infested areas such as water-logged regions.

It is also noteworthy that Dengue Fever and Japanese Encephalitis can also be transmitted through mosquito bites.
8. Avoid dangerous or infected animals
There is no denying the exciting biodiversity that Thailand offers. The region is home to beautiful aquatic and land wildlife such as tigers, elephants and snakes.
You may be surprised to hear that the most common animals—dogs and monkeys—actually pose a threat as well: rabies. Remember, to avoid issues like rabies or other harmful situations, exercise caution (especially before taking a selfie with a wild animal). Keep an eye on any children you're travelling with as well. Kids are less likely to report if they've been bitten or scratched by an animal (because they were likely ignoring instructions to not touch the dog/monkey).
If you have been bitten or scratched, it is very important to seek treatment immediately. This is another good reason to know where you can get urgent medical attention. If you get the rabies vaccine pre-exposure (before a bite/scratch), you will need two more shots of rabies vaccine to protect you from this exposure. Without the pre-exposure rabies shots, you will need six or more injections.
9. Make plans for safe and effective transportation
The Thai version of Uber is Grab Taxi. You can download the app on your mobile phone before booking your flight. It is a considered a trusted company for transport anywhere in the major cities. You will be sure to see that tuk tuks can be found on most street corners, but do not get in a tuk tuk if you believe the driver is unfit. As with anywhere in the world, it is of utmost importance to wear your seatbelt.
While travelling Thailand, it is likely you could find yourself using many modes of transportation, and in the crowds that accompany congested travel hubs, there is always the risk of airborne illnesses like the Measles. Whether a train, plane, buss, or ferry, it is important to remember to use hand sanitizer and stay hydrated with clean water.
10. Adhere to rules and regulations
Illnesses in Thailand are not the only threat when you travel, so it is important to be mindful of issues around political unrest, drug use, assault, robbery, and other crimes.
It is advisable to stay out of dangerous regions like border areas, and strictly adhere to the local rules and regulations. Stay vigilant and cautious at all times.
Exercise street smarts to ensure you have a pleasant, safe and care-free time throughout your vacation.
Bonus Tip (we had to!)
Stay vaccinated and safe in Thailand. Summit Travel Health offers all the vaccinations required for Thailand to keep you safe for your travels to Thailand

.